No-till Farming
No-till is a part of the systems approach of Conservation Agriculture (CA).
The 3 pillars of CA are:
minimising soil disturbance
maintaining soil cover
rotating crops
No-till comes in various guises and can mean different things to different people. This means when researching into No-till, people may become confused and can make the wrong decisions for example, in terms of drill selection, cover crop choices and rotations. No-till is not as simple as leaving the cultivators in the shed. There are many complex interactions between crop types, residues and soil.
At Abacus we can advise you on designing a No-till system that fits you and your farm to avoid costly mistakes. When done well a good No-till system will not only lead to a reduction in machinery and fuel costs but also lower fertiliser and pesticide costs too due to improved soil health. Contact us at Abacus to start your No-till journey.
No-till Case Study 1
Farm Visit – Intercropping Field Lab, May 2018
Andy discussing seed rates and agronomy of his Spring bean/spring Oilseed Rape intercrop with the Intercropping Field Lab which has just been No-Till planted.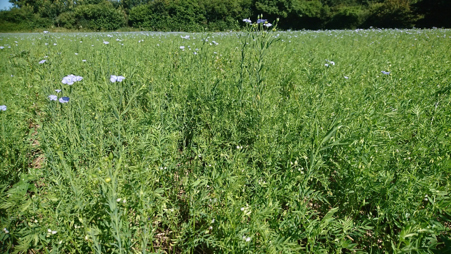 The group came to visit Andy's farm to also see his Lentil/ Linseed intercrop and oats undersown with clover.
During the Field Lab visit the group also were shown a homemade intercrop separator.
The group visited Andy to learn from his intercropping experiences on his own farm and also gain insights from Nuffield study trips around the world.
Article from March 2019 Issue of 'Crop Production Magazine' interviewing Andy on his farm system and intercropping developments.
No-till Case Study 2
Innovation for Agriculture Event, Dorking, March 2019
During the morning Andy spent time discussing the technical intricacies of No-till agriculture, cover cropping and intercropping with local farmers. The afternoon was spent on a farm visit, to a local farm, where the pros and cons of Strip Tillage were discussed with the group. The soil structure and health in this local wheat field were also examined. The group discussed soil disturbance from strip tillage that can cause weed issues. Solutions and a plan for the future were outlined.
Discussing the technical intricacies of No-till farming.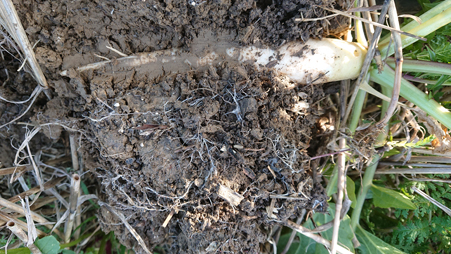 Soil structure under an over winter cover crop on a heavy clay field (Winter 2018)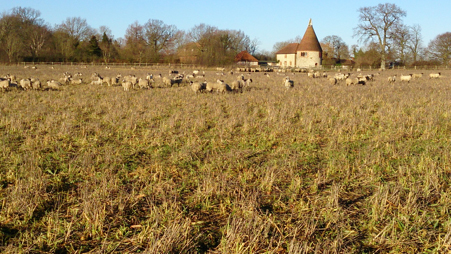 Sheep grazing overwinter cover crops on Andy's farm.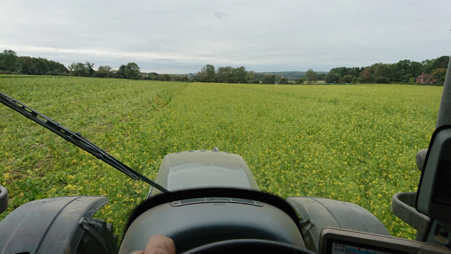 Planting second wheat into a Mustard and Phacelia catch crop (October 2018) – (also see video below)
No Till established Winter Wheat after Spring Oats on Andy's farm (November 2018)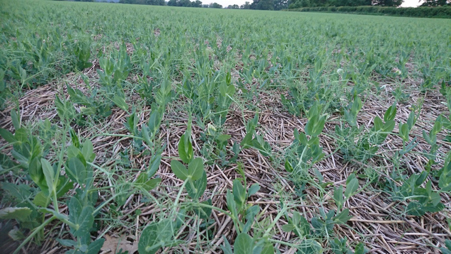 Spring Pea /Oilseed rape intercrop No-till planted into stubble (April 2017)
Spring Bean and Oat Intercrop No-till planted into stubble (April 2017)
Winter wheat grown without fungicides. A practice that is increasing on Andy's farm, made possible by improved soil health and balanced plant nutrition.
Planting wheat into a standing cover crop
Andy presenting his report at the 2016 Nuffield Conference
Andy presenting at the Oxford Real Farming Conference 2019 on the results of intercropping trials